N

ow that we've had our turkey & dressing, the holiday season is ready to swing into full gear. Yet, while you are decking the halls and

writing your letters

to Santa,

I will be spending t

he next 25 days honoring a

tradition

of my own:

watching my favorite holiday program.
In 2003, a friend of mine, Grant Baciocco received an advent calendar (see Grant's calendar here) full of goodies from his mother. Instead of keeping all the fun to himself, he decided to share the opening of each door. So everyday from December 1 thru the 25th he records the event for all to see.

Grant receives a variety of goodies from his mom, everything from colored pencils to cash to post-it notes to cash to chocolate to cash.. Last year (2007) he added a theme song to the podcast, "Christmas Brought Me You" by Jody Whitesides.
While it's all in fun as with all events, rules & regulations are necessary to insure a fair representation of all participants. The Official Advent Calendar Commission rulebook clearly states:
1) the door must be opened on its respective day - EX. the 1st door must be opened on Dec 1, etc all the way thru to 25
2) the one take rule - each video must be filmed in 1 take. There can be no edits, effects may be be added
3) The video must be upload to the website on the day they are filmed by 11:59pm

Needless to say my children and I watch everyday to see what Grant will do next & what the mystery item is behind the next door. This year my kids even got in on the countdown to the first door opening.

So tonight when the first door was opened.. well I'll let this video say it for me..



With that being
s
aid
, Grant's Advent Calendar podcast is something great for the whole family.
Who knows maybe you'll even get inspired and join in on the fun.
Using the ABM5
"Official Chile Heat Scale"
we give Grant's
Advent
Calendar a
Habanero, and it's excellent theme song deserves one too,
cause as far as we are
concern they are SOME HOT PEPPERS.
SO what are you waiting for?? Go now and subscribe to Grant's Advent Calendar.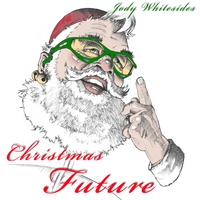 Santa says, " Don't forget to purchase "Christmas Brought Me You' By Jody Whitesides". Now go to CD Baby and Buy The Album or Download it From iTunes
I will also be utterzing all month reminding you to check out Grant's Advent Calendar Podcast & to stop by CD Baby & stop by CD Baby to purchase Jody's Music. :)